Dharam reviews the FX drama living the 1980s New York gender-nonconforming ball scene featuring Billy Porter, Mj Rodriguez, Dominique Jackson among others. 

Co-created by Ryan Murphy, Brad Falchuk, and Steven Canals, Pose is radical in concept but brazenly square in execution, affirming universal feelings, values, and aspirations that are common to film genres that inspired it, including the musical and the melodrama of the poor- to working-class striver.
SPOILERS AHEAD

Each competition in "Pose" is about categories with Pray Tell, fashion designer and mentor to members of the community, MC-ing once a week. Dancers and model compete for trophies and recognition in this underground culture, and who support one another in a network of chosen families known as Houses. The show is charged with characters full of confidence and doubt at the same time. This juxtaposition makes for a fantastic view of the dark with the light. All main characters have an inner struggle that they must contend with. These struggles may define who they are today but not necessecarily who they will be tomorrow. Some memorable character arcs in the first season were :
Electra Abundance (Mother of the House of Abundance) – played by Dominique Jackson – is a harsh and shrewd mother who has been the reigning champion within the ballrooms. She shows her and her children talents throught the many categories they walk. She is Blanca's original mother. Gradually sees her house collapse due to financial failings resulting from the fallout of her relationship with Dick Ford subsequent to her gender reassignment. Blanca comes to her rescue (of sorts) at the close of the season.
Blanca Rodrigues-Evangelista, a former member of House of Abundance – played by Mj Rodriguez, who after being diagnosed with HIV decides to take fate into her own hands and forms the Houe of Evangelista; taking in Damon Richard, Angel and Lil Papi, she strives to popularise her house and also provides care and nourishment that lacked in their previous homes or Houses. Blanca pushes her children to seek new opportunities beyond the ballroom scene. This is despite Blanca's own family refuse to accept here as a woman and even tried to prevent her from attending their mother's memorial.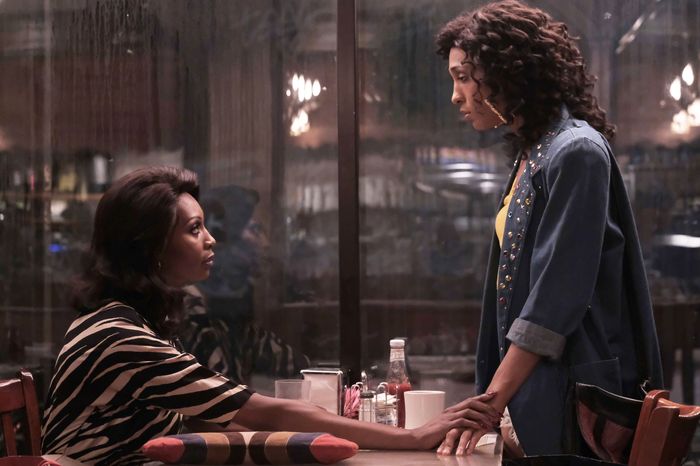 Pray Tell is an emcee in the Ball Scene – played by Billy Porter , a member of the Masters of Ceremony Council and a father figure to many. He has a deeper relationship with Blanca and the House of Evangelista than some others in the Scene. After learning that he is diagnosed as HIV+, he learns to adjust his life while mourning his lovers passing and being supported by Blanca.
Angel Evangelista, another former member of House of Abundance leaving alongside Blanca – played by Indya Moore, is a former escort but plays the pier occasionally. She becomes romantically invoved in a married man Stan and despite being let down several times, continues having relations with him until the unexpected meeting with this wife Patty.
Pose can be scathingly funny, particularly when competitors on the floor are scourging each other with witty torrents of invectives. But the deeper this show delved into its first season, the more obvious it became that its true nature was warm, reassuring, at times as proudly corny but very disciplined.

The season ends with Blanca being crowned Mother of the Year and House Evangelista then gathering in a Chinese restaurant and affirming their status as a family.
Season rating : ★★★★☆

Pose official website: http://www.fxnetworks.com/shows/pose#PoseFX Content media – FX/FX Networks. All rights reserved.